27 de ago de 2013
Trago agora aquele que é considerado o melhor Weather Engine do momento, e que trabalha muito bem com todos programas de textura, como REX, FEX, etc.
Descrição em Inglês
The perfect addon for Standalone and Networked systems!

* Combines three or more programs into one user friendly interface.
* Sets new standards of performance and realism.
* Ideal addon for cockpit builders and general users alike.
* Ideal addon for both standalone and networked simulator systems.
* Live weather engine for live detailed weather as far as the eye can see, instant
weather updates and perfect weather and cloud synchronization across all
systems.
* Opus pioneered the use of Dynamic Weather Themes making it possible to
give you detailed real world weather horizon to horizon for the very first time.
* User friendly camera control, configuration and docking interface for virtual
cockpit, 2D cockpit, and external aircraft views.
* Additional support for windowed views for systems equipped with multi-
screened computer systems.
* Dynamic head movements or virtual cockpit camera shake based on actual
real-life captured 3D accelerometer data.
* Dynamic aircraft movements or 2D cockpit camera shake based on actual
real-life captured 3D accelerometer data.
* Automated head movement to assist taxiing and banking in a turn.
* Synchronized views, aircraft status, weather and clouds formations.
* Ultra high performance IPC communications between networked systems.

* TrackIR® real-time 3D view control full compatibility
Arquivo disponível em Torrent. Tamanho: 19.15MB. Password:
fsxcenter
Último ciclo do Airac, feito pela Navigraph. O ciclo atual é o 1309. Baixe agora todas as versões.
16 de ago de 2013
New York City X is a highly detailed scenery of New York city in the United States of America. This is one of the most complex scenery add-ons for flight simulators, featuring 2500 sq km of high resolution terrain with autogen and over 6100 photoreal New York buildings. This product is compatible with Microsoft Flight Simulator X (FSX) and Lockheed Martin Prepar3D (P3D).
New York is the most populous city in the United States and the center of the New York Metropolitan Area, one of the most populous urban agglomerations in the world. The city is referred to as New York City or the City of New York to distinguish it from the State of New York, of which it is a part. A global power city, New York exerts a significant impact upon commerce, finance, media, art, fashion, research, technology, education, and entertainment. The home of the United Nations Headquarters, New York is an important center for international diplomacy and has been described as the cultural capital of the world.
Scenery features:
Compatible with FSX (including DX10 mode) and P3D (there is a separate version for FS2004)
Two texture sets with standard and high resolution textures
Advanced modeling and texturing techniques
Huge scenery area (2500 sq. km) including Jersey City, Newark and all 5 boroughs of New York City, with night and seasonal textures
Perfect for general, business and commercial aviation, ultralights and helicopter flying
New York metropolitan area with over 6100 custom, photoreal buildings from Manhattan, Brooklyn, Bronx, Jersey City and Newark
Best possible performance, extensive Level Of Detail system
Autogen (buildings and vegetation) on the whole area
11 heliports including 4 detailed and 3 with custom objects
Photorealistic ground cover for 6 airports (for airport sceneries search for our New York Airports X)
Extras like people, wave effects, custom car traffic, ships and boats, cranes, hundrieds of fuel storage tanks, various library objects etc.
Extensive manual with history information, technical details, charts, extra settings and performance tips
Seasonal textures:
No seasonal texture tools are required for this product.
Compatibility:
New York City X is compatible with vector add-ons (f/e UTX), mesh add-ons (f/e FS Global), airport scenery add-ons and visual add-ons (f/e FTX Global).
New York City X is not compatible with Aerosoft Manhattan X, Taburet New York Photorealistic and Megascenery New York.
We do not guarantee compatibility with all unmentioned add-ons for the included area. If there are some issues found, solutions will be posted on our forum.
Este é o Real Environment Xtreme Essential Plus Overdrive. É o Update SP2 apenas.
O REX Essential + Overdrive possui texturas que vão desde resoluções mais baixas, como 512x512, para garantir uma boa perfomance, até as Ultra HD, com 4096x4096, perfeitas para screenshots ou máquinas super potentes. Além disso, possui uma das melhores engines para Weather, atualizando o clima constantemente, dentro das configurações de distância desejadas. Enfim, é um add on indispensável.
Arquivo disponível em formato torrent. Tamanho: 229.75Mb
8 de ago de 2013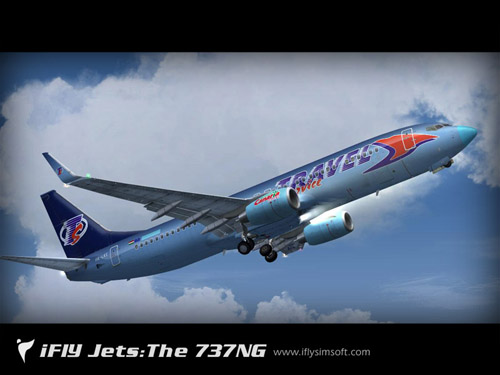 Product Features (iFly Jets: the 737NG for Microsoft Flight Simulator X.)
The iFly737NG is one of the most sophisticated and complete addon for Microsoft Flight Simulator. The accuracy of cockpit and system simulation is very high and there are many features.
- Winds aloft forecast entries.
- Conditional waypoints for SIDS/STARS/Approaches.
- Fly-by and Fly-over waypoints for SIDS/STARS/Approaches.
- Accurate Cost Index calculations for LRC/ECON speeds
- Horizontal and vertical navigation.
- User defined and conditional waypoints.
- Sid/star and navdata custom database.
- ETA and Fuel prediction.
- All pages and menus are implemented.
- With both LCD/CRT styles CDU.
- Realistic Autopilot Flight Director System with Autothrottle System.
- Autothrottle (A/T) Engaged Mode:
- With left and right Flight Director.
- Cross-bar or single cue flight director.
- Two individual flight control computers (FCCs).
- Fully simulated AFDS Status Annunciation.
- Pitch/Roll CWS with a CMD Engage Switch Selected.
- Activation of mouse wheel for easier MCP windows settings.
- Using FSX material(bump and specular).
- High detailed vc and wing model
- Realistic control surfaces.
- Working elevator power.
- Realistic flight spoilers and ground spoilers.
- Nozzle valve animation.
- Entry & cargo doors with corresponding cockpit light.
- High quality livery textures.
- Gauges fully functional and clickable. Every switch, knob, lever is modeled in 3d and animated.
- Animated windows, Wipers(two speeds).
- Superb instrument lightning at night.
- Full cockpit circuit breakers panel.
- Fully simulated Inertial Reference System.
- Display type (PFD/ND or EFIS);
- NAV1/2 receiver with working AUTO/MAN mode.
- Realistic Ground proximity Warning System.
- Cabin pressurization gauge & logic fully implemented.
- Flap load relief protection and autoslats logic.
- Simulation of Left and Right EFIS.
- Full TCAS logic (with traffic display on ND).
- 2D Panel supports both standard and widescreen monitors.
- With engine CFM567b: 18/20/22/24/26/27.
- Interactive Configuration Manager.
- Many custom configuration options.
- Detailed operation manual included.
- Aircraft performance calculated directly from flight model parameters.
- With custom PFD/ND/DU font.
- New very smooth GDI+ based CRT displays.
Available in torrent. Password is gulli
File size: 815.96Mb
The famous Sim-Wings Team brings us the new Mega Airport Madrid Barajas in its latest state of development for Microsoft Flight Simulator X and 2004. An original replica of the complete airport with all its buildings, installations, new effects, animated vehicles and objects.
Madrid Barajas is the largest and busiest Spanish airport, ranked fifth in Europe and 11th worldwide. Situated approx. 12 km to the northeast of Madrid this airport is Europes most important hub for connections to the South American continent.
Mega Airport Madrid Barajas is modeled to the latest known layout status, with the new Terminal 4 completed in 2006 and the new parallel runways 15L/33R & 18L/36R. It's an airport which belongs among the top notch airports in Flight Simulator X and 2004. Sim-Wings know how to create the best possible scenery at the best possible frame rates. If you like major airports, this is one you got to have. Time to head to Spain, my friends, Madrid Barajas awaits you in Microsoft's Flight Simulator!
Features:
High definition day and night textures
New Terminal 4 (T4) incl. both in the year 2006 opened runways 15L/33R & 18L/36R
Fully AI compatible
Docking Systems
High definition aerial image of the ground texture
Photo realistic textures on buildings, vehicles, etc.
Hundreds of taxi- and runway signs
Numerous static and dynamic objects such as service vehicles, buses, etc.
Fully AES (Version 1.91) compatible
FSX version included
Complete Manual and Charts
System requirements for FSX:
Microsoft Flight Simulator X (SP2/Acceleration Pack)
Windows XP(SP2), Windows Vista
Pentium 3 GHz (Duo2Core Intel strongly advised)
1 GB RAM (2 GB recommended)
256 MB graphic card (512 MB recommended)
Installations-Size: 180 MB
Available in torrent. File size: 75.02Mb